Gina Halladay and Beth Hawkins were days away from launching their next quilt adventure, a combination of online quilting classes and a fabric shop called Hello Cottons when the invasion in the Ukraine started. When they heard about the devastating occurrences through friends and colleagues living in Ukraine and Poland, and saw the images of mothers and children fleeing for safety, they quickly pivoted and decided they wanted to find a way to bring comfort to Ukrainian refugee families and children. Gina tearfully shared, "Besides needing food and supplies, these people want to know that somebody sees them."

Gina and Beth founded Wrap Ukraine With Quilts. Within a week they had a website up and running, hellocottons.com. Gina said, "We very quickly started getting quilts dropped off at my house and began receiving packages from all over the country". Their web designer suggested creating a way to register the quilts with a QR code. A quilt maker can register their quilt on the website, then print a page which contains the quilt maker's name and location, a short message to the recipient, and a QR code. The quilt maker then can attach it to the quilt before sending.
"When we receive the quilt, we scan the the QR code and let the quilt maker know we have received their quilt. We inventory the quilts and get them to refugees very quickly through our team of volunteers who hand deliver them to refugees in Poland," Gina explained. "We have also partnered with the charity, Lifting Hands International, who sends cargo planes of supplies, including our quilts, to Ukrainian refugees every two weeks," said Beth.
"Quilts and blankets are high on the list of items needed and requested by Ukrainian refugees," said Traci Parson, Director of the Utah Operations of Lifting Hands International, "We are thrilled to be able to send such beautiful quilts to Ukrainian refugees".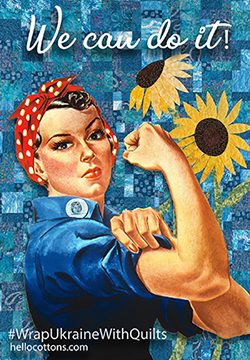 When the quilt is received by the refugee, they can use a smartphone to scan the QR code pinned to the quilt and if they wish, send an email message back to the quilt maker. On the hellocottons.com website, there is a live quilt counter continually updating the number of quilts donated. As of writing of this, the quilt counter sits at just under 6,000 donated quilts. Quilts that have been sent to the over one and a half million children who have joined the exodus from Ukraine as of March 15, 2022.
Would you like to participate, here's how:
Handmade Quilts – New or Barely Used Handmade quilts in lap, throw, or crib size. Any quilt up to twin size preferred.
Quilts should be barely used or new. Have one in a closet you could send? Or are you a speedy quilter and can make one or two child-size or throw quilts?
Clean – Please have quilts freshly washed and wrapped in a plastic bag to protect them when shipping to us.
Label Quilt – Feel free to add a label with the name of the maker and a message of encouragement and attach to the back of the quilt. Register each quilt at hellocottons.com, print the complete info page (one per quilt), fold with QR code visible, and place in a ziplock bag and safety-pin to your quilt.
What To Include – If you would like to include a picture of yourself and/or family with your quilt, add it to the plastic bag.
Send Your Quilt – Mail your quilt(s) to: Wrap Ukraine with Quilts c/o Hello Cottons, 1473 N. 2950 W., Lehi, UT 84043
If you include a self-addressed stamped envelope with your quilt, we will send you a thank you sticker!
Also, when you visit the website, there is a free quilt pattern download:
Not a quilter? You can send help by sending money to their Venmo account. Every penny goes to helping with shipping costs overseas!
Venmo Acount: venmo@hellocottons
Website: For more information and to register your quilt: www.hellocottons.com
Contact: Mail quilts to: Wrap Ukraine with Quilts,
c/o Hello Cottons 1473 N. 2950 W. Lehi, UT 84043
Email Gina and Beth if you have any further questions: hellocottons@gmail.com
How else can you help…
Please share and tag your friends!

Our Facebook, Twitter, and Instagram account: @hellocottons
Use hashtag: #WrapUkraineWithQuilts in everything you share.
Here are some images Gina and Beth have shared with us.
COLLECTING QUILTS
DELIVERING QUILTS TO REFUGEES
The ever hard working Beth & Gina!