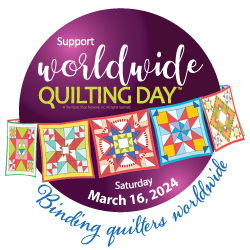 –March 16, 2024–
Worldwide Quilting Day is the time each year that we celebrate quilting around the world and explore the ways that it binds us together.
This event, held each year on the third Saturday in March, was created to connect quilters and the shops that support them.
Your local quilt shop may be planning to celebrate the day with special events. Contact them to find out more about their plans and ask them to join in the fun!
If you are a shop owner and would like to find out how you can hold a successful event in your store, click here to learn more.
Worldwide Quilting Day is brought to you by the team at The Fabric Shop Network.