Natalie Caldwell of Quilt Culture in Red Bluff, CA, is a grandmother of three very much loved grandchildren who manage the daily struggles of autism. She has first hand knowledge of the challenges families are faced with.
Natalie's daughter asked her to sew aprons for her children to wear to help make it easier when dealing with messes during the learning process. Sensory activities assist children who have been diagnosed with autism spectrum disorder (ASD). These sensory activities are often messy, leaving clothing stained, wet, and even ruined. Painting, mud sculptures, and homemade slime are no match for staying clean and presentable at school.
As a result, Aprons for Autism was born! The program provides aprons to special needs children, a small gesture that can make a big impact in the daily aspects of a child's life or a family with a special needs child.
Ways to Participate
MAKE AN APRON! Quilt Culture has several patterns for you to download and use. Additionally, they have apron kits you can purchase for $15 that includes a pattern, batik fabric, an apron label, and aslo includes shipping. If you are local, you can pick up a kit from Quilt Culture for just $10.
Mail the apron to Quilt Culture, and they will get it to children in need.
Address: 22025 Gilmore Ranch Road, Red Bluff, CA 96080
Alternatively, you can gift your apron to a child in your community or an autism organization near you.
SPREAD THE WORD! The goal is to make and distribute 100,000 aprons, which seems like a lot, but there are currently 80 million people in the world with autism, which is about 1% of the population. The need is great and you can help grow this movement by simply sewing an apron, host a sew-in, and encourage local organizations to reach out and request aprons for their students and children with special needs.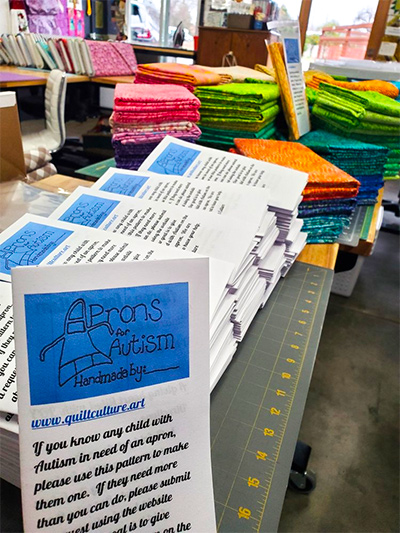 To find out more, to watch a video on how to sew an apron, to download a pattern, to sponsor an apron, to order an apron kit, to order aprons for Autism labels for your own aprons to gift, go to their website.
Images courtesy: krcrtv.com, quiltculture.art